Elkhorn Slough Brewing Co. is one of a growing number of breweries ringing the wide half-moon arc of Monterey Bay. Located in a semi-industrial neighborhood on the northern outskirts of Watsonville, it is a surprisingly cozy place given its surroundings.
There are several couches and armchairs arranged between the no-frills bar and the space given over to the 7-bbl brew-house, forming little nooks for patrons to sit at, drink, and talk.  There is clearly a sizeable corps of regulars and most seem to be on a name-basis with the servers. Moreover, the place is decidedly dog-friendly (servers even know the regulars' dogs by name!).
The vibe is friendly and open.  In fact, I got to chatting with one of the regulars, a former cop named Dave, who, upon learning it was my first time at the brewery, insisted on buying a me few beers, so I could try some beyond the flight I had ordered.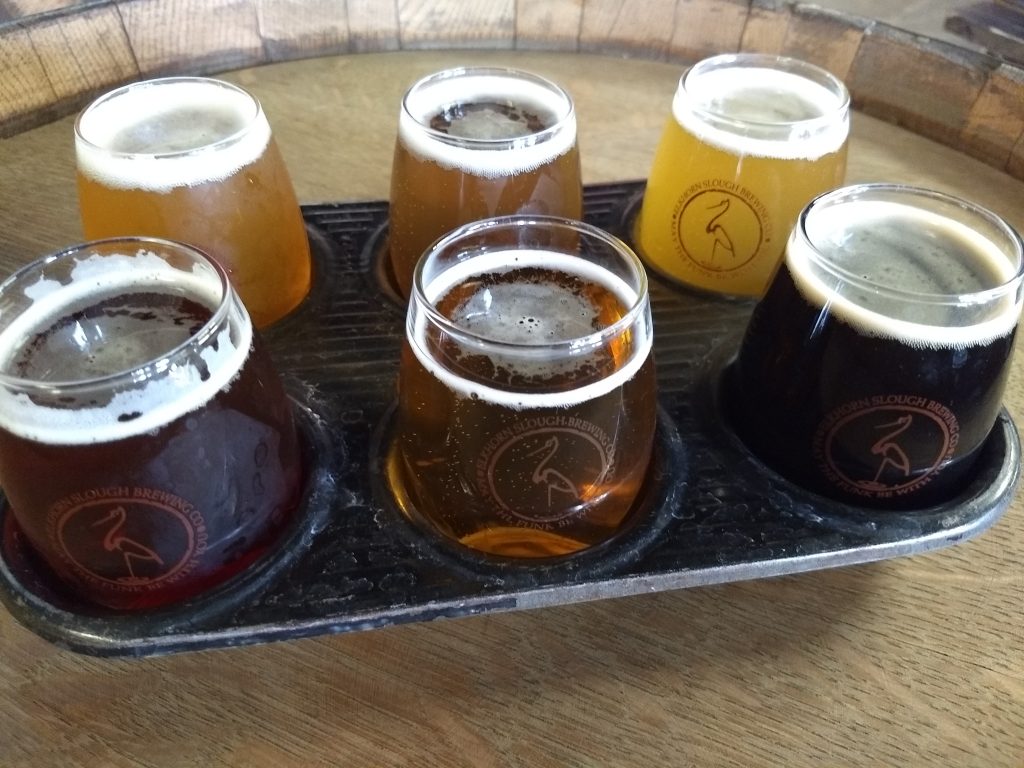 The beers are quite enjoyable. A solid line-up.  Elkhorn Ale, a smooth, copper-colored, 6.7% abv California lager, and Pajaro Gold, a 5.9 ABV ale, seem to be their flagship beers. Both are admittedly nice, but I was drawn more to their selection of wilder brews.
Sucrosity is a "wild farmhouse wheat beer aged in Chardonnay barrels". It is mildly sweet-tart, with notes of fruit and plum. It  checks in at 6.8% ABV.
Lemon Kush is a  Tequila barrel-aged sour-mashed "wild" lemon gose.  It has ample notes of citrus, with a touch of spice. 6.2% ABV.
My favorite, I'd have to say, was probably Green Jewel.  It is a 7.2%  ABV "barrel-aged wild sour blonde ale with Cannabis terpennes".  Green Jewel is golden in color, light-bodied, with a mild tartness.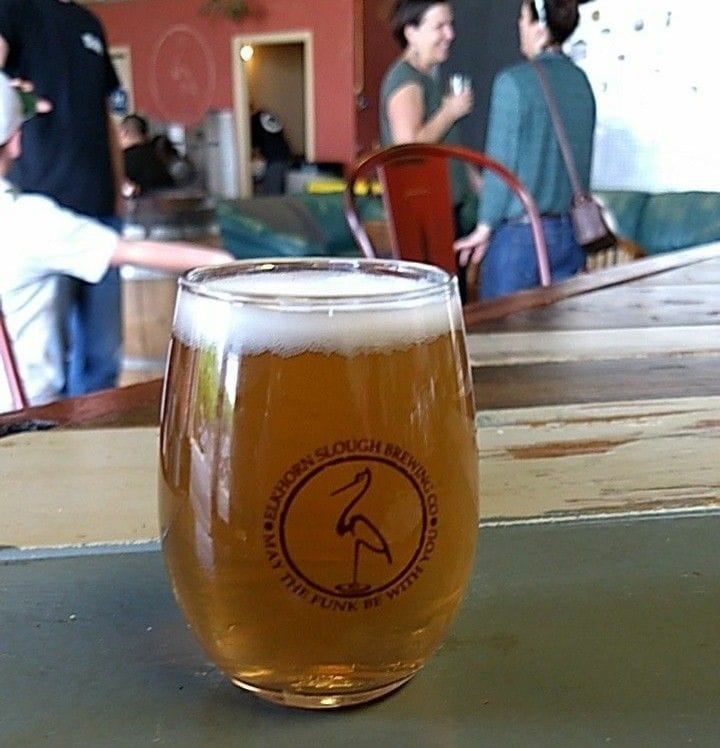 Elkhorn Slough Brewing Co.
65 Hangar Way, Unit D
Watsonville, CA