Last weekend I had the opportunity to check out the digs for Five Suns Brewing in downtown Martinez (California).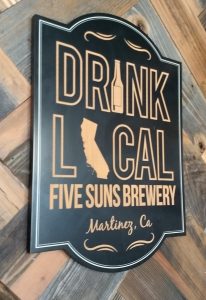 Five Suns is the brainchild of five friends (though I think a couple of 'em might be brothers) who decided to open a brewery together. By putting in a great deal of "sweat equity" into their space they've managed to put together what is already a pleasant, welcoming, comfy-feeling place, with a nice bar, vintage sofas paired with modern tables, set in a modern "industrial" space with pleasing interplay between cement, wood, old brick work, and exposed pipes.
They are set up as a 3-bbl. nano brewery, and the plan is to initially be open only on weekends (I presume that means Fri. evening through Sunday), until they can develop enough of a following to be able to afford to increase their brewing capacity.
 A big regulatory hurdle has been surpassed with the granting of their ABC license this week, which clears the way for Five Suns to produce and sell beer on premises. Other local and state permits still need to be cleared, however.  Thus, an opening date has not been set –they wouldn't even speculate on it– but the owners told me they expected to launch some soft-opening events for friends and backers early in the coming year.
Five Suns Brewing
701 Escobar St Unit C
Martinez, CA
Update (12/19/2017):   Five Suns Brewing is now open!  Check their website for the hours.