Over the weekend I stopped in at Gilman Brewing, on Gilman St, in Berkeley.
The space is fairly cozy. One is greeted by the taproom immediately upon entering, in a small, low-ceiling foyer, leading onto a passage backed by a long standing bar pushed up against the backside of the fermenters.  However, above there is a two-level deck overlooking the brewhouse, with a selection of tables and bar stools.
Off to one side there is a game room, with corn-hole, and -I think- a fussball table.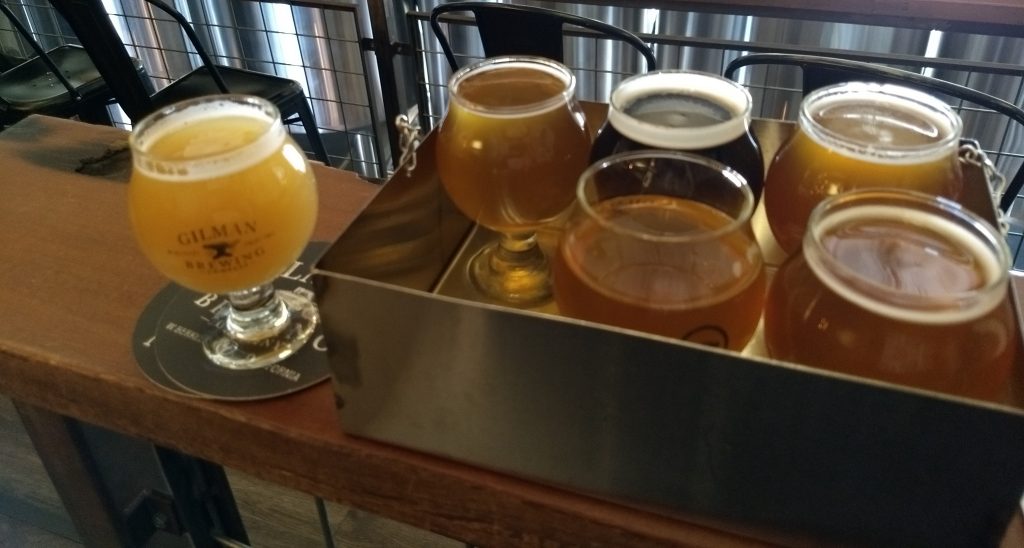 It was my first time there, and the staff were very helpful in steering me toward good beer selection
s for my flight.  I tried  (clockwise from top center, in the picture above) La Ferme Noire (dark saison with brett, 7.7% abv), Old Rusty (Belgian golden strong, 8%), Pineapple Jardin (Belgian golden sour, 5.8%), Cheval de Fer (limited-release dry-hopped Belgian saison, abv not specified), and Fuzzy Dice (hazy IPA, 7%).
I liked all the beers, but I was kind of rushed and didn't take notes, so I can't remember details of all of them.  Fuzzy Dice was good, I do remember that.  So were Cheval de Fer and Old Rusty, but, for me that day, the real standouts were the two sours.
Le Jardin is a kettle sour, which means that it was soured with lactobacillus before the wort was boiled.  It is dry, and mildly tart, not puckeringly sour, which makes it a good "gateway" into the world of sour beers.  That it was then fermented with Belgian yeast strains adds pleasant complexity to the flavor -some citrus, stonefruit, ….  It is no wonder that I liked it, as I am partial to both, sours and Belgian-styled beers.
Pineapple Jardin is Le Jardin with the addition of a half-ton of fresh pineapple per batch. So, take what I said above about Le Jardin and picture that with the sweetness and tartness of pineapple, with loads of pineapple flavor on top of that, and you'd be getting the picture.
Gilman Brewing Co.
912 Gilman St.
Berkeley, CA