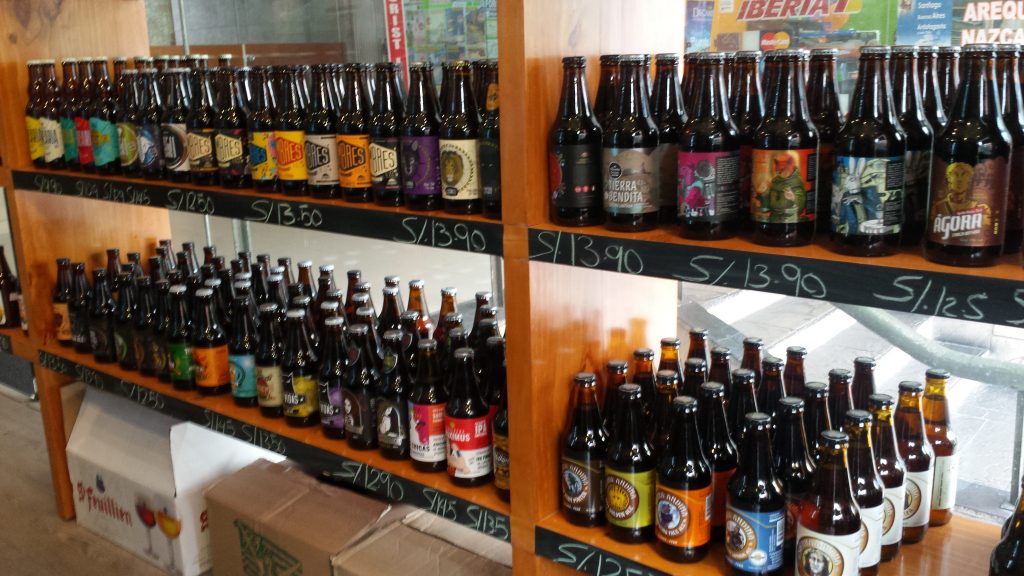 Beer in Peru, as elsewhere, has been undergoing a process of concentration of ownership and production decisions for many decades.  In Peru the process ocurred as the Backus & Johnston's brewery and the Cerveceria del Sur each out-competed or absorbed local and regional brands, then merged under the Backus & Johnston umbrella, and then itself be bought by ABInbev a few years ago. As result, many styles of beer faded from memory to be replaced with macro-produced lagers.
There were always upstarts and holdouts, of course, but in time they all succumbed. Even, it seems, the well-funded Tres Cruces brand from the AJE Group, an international beverage corporation founded in Ayacucho by the Añaños family.
In the past decade, however, there has been a different set of breweries developing, who played by different rules. – producing small amounts, self-distributing, and putting out a wider variety of styles. However, even though there were rumours of craft breweries in Lima, they were all but invisible, and there was only one brewpub – the Cerveceria De Tomás (later renamed Mi CebiChela) on Ave. Rosa Toro.
Then, three years ago -it seemed all of a sudden- craft brew bubbled up and burst on to the scene. The Cerveza Cumbres brand from Cerveceria Gourmet had made it into some high-end restaurants, and Barbarian and Sierra Andina had managed to get shelf space in supermarkets. Barranco Beer Company had opened a high-profile brewpub, and was soon followed by Barbarian and Nuevo Mundo opening their own taprooms.
Today, there are some two dozen craft beer brands being produced in Lima alone: Ágora, Amarílis, Barbarian, Barranco Beer Co., Beer Stache, Brewson, Brutus, Candelaria, Chinekus, Costumbres, Cumbres, Curaka, De Tomás, Greenga, Hops, Invictus, Jaya Brew, Kennel, Lima Brew, Maddok, Magdalena, Melquiades, Nuevo Mundo, Oveja Negra, Santos Demonios, Saqra, Siete Vidas, Sumaq, Teach, Tío Luque, and Zenith.
Outside of Lima, we find Machay, Mamacha Carmen, and Melkim in Arequipa; Cervecería del Valle Sagrado in Urubamba; Amarus, Oráculo, and Perro Calato in Ayacucho; Dörcher Bier in Pozuzo; Wayayo in Huancayo; and Sierra Andina in Huaráz.  There is also a lone meadery: Ragnarok, situated on the outskirts of Lima, in Pachacámac.  (There are, surely, other small breweries but because their products rarely make it into the Lima market they don't get the exposure.)
Many of the above were partially, or wholly, founded by foreigners -French, North Americans, Australians, Indians- who settled Peru, or Peruvians who had lived abroad and had come into contact with the European and North American homebrewing and craft brewing communities. Although some of them are well-appointed microbreweries, most would qualify as nano-breweries, and some are not much more than skilled home breweries who are able to package and sell their product.
Many, perhaps most, started by advertising on their own FaceBook pages and taking orders directly  from customers over the phone for delivery within their respective cities. Online vendors, such as La Barra de Grau, La Bodega Cervecera, and 1518 Chela, helped spread the word and provincial brewers to break into the Lima market.  They have been joined in the past year by two brick-and-mortar craft beer bottle shops in Lima: La Bodega Cervecera's own retail store in Surco, and La Cerveteca, which opened 8 months ago in Miraflores.
In the meantime, Barranco Beer Company has opened stands in other points of Lima and in a couple in other cities, and Barbarian is opening a second taproom in Lima.   Maddok and La Candelaria have joined Sierra Andina and Barbarian on the shelves in major grocery store chains. Craft beer is increasingly finding its way into restaurants, bars, and cafes, and magazines, newspapers and television programs frequently run features craft beer and the best places to get it.
Craft beer is still but a miniscule part of the Peruvian beer market, but it is one that is getting increasing attention, and is clearly here to stay.