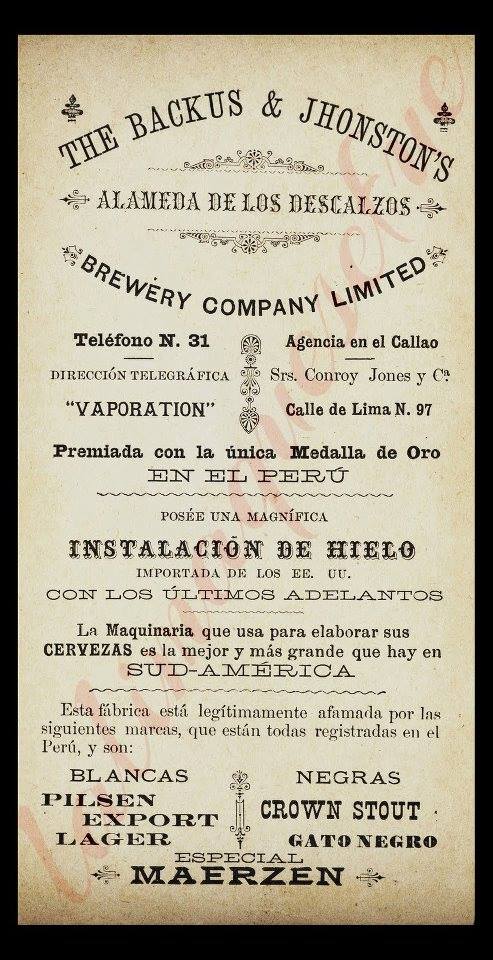 This is an image that I came across online.  It's an early advertising poster from the Backus & Johnston Brewery Company in Lima, from back when telephone numbers in the city could be counted in the double-digits.
The poster remarks that the brewery -which started as an ice company- possessed a "magnificent" ice facility imported from the U.S.A., and that it's beer-making equipment was "the best and largest in South America."
Most notable, however, from a consumer standpoint is the variety of beers made by Backus & Johnston back then: Pilsen, export, lager, märzen, stout, and a dark beer labeled "Gato Negro" (black cat).
Decades later, their production had grown massively, and the company itself had expanded into a near brewing monopoly -the Unión de Cerverías Peruanas Backus & Johnston- having absorbed other breweries throughout the country.   At the same time, despite the expansion in the number of the company's brands and volume, the beer variety shrank. By the turn of the century the only ones that had survived were the pale lager and a dark lager.
In the past decade, however, the company has started to break out of that straight jacket, albeit cautiously.  It has used its Cusqueña brand to float a few "special" beers: Cusqueña Trigo (pale lager made with a percentage of wheat), Cusqueña Quinoa (made, obviously, with some quinoa), and Cusqueña Red Lager.  It has also dipped its toe into the "top shelf" market with Abraxas, a beer it describes as a "super premium" and sells for 400% of the price point of its regular beers.