On Monday, Oct 7th, Fort Point Beer Company will open the doors to its brand new beer hall at 742 Valencia St., in San Francisco's Mission District.
Fort Point Beer Co. was founded five years ago by Tyler and Justin Catalana, who had previously operated the Mill Valley Beer Works. Today it is San Francisco's largest independent brewer.
However, despite its beers being found in bars and retailers throughout the city and beyond, and having a toehold in the Ferry Building market hall, Fort Point remained a production brewery and not open to the public. The company was thus wanting of a space in which to show off its beers the way it wanted, while having the opportunity to interact directly with the public. Enter: Fort Point Valencia.
As founder Justin Catalana explained at a media preview soft opening event on Friday evening, opening a place such as Fort Point Valencia had been kind of a dream for them, and that they've striven to make it a space which invites customers to feel free to move about the hall, meeting people and enjoying its different areas.
A lot of care and thought went into designing Fort Point Valencia. It certainly does not have the semi-industrial look that is somewhat typical of brewery taprooms these days. While keeping the open ceiling and exposed beam timbers, they've eschewed the all-too-common black paint in favor of a pleasant tan or off-white base with vibrant accent walls.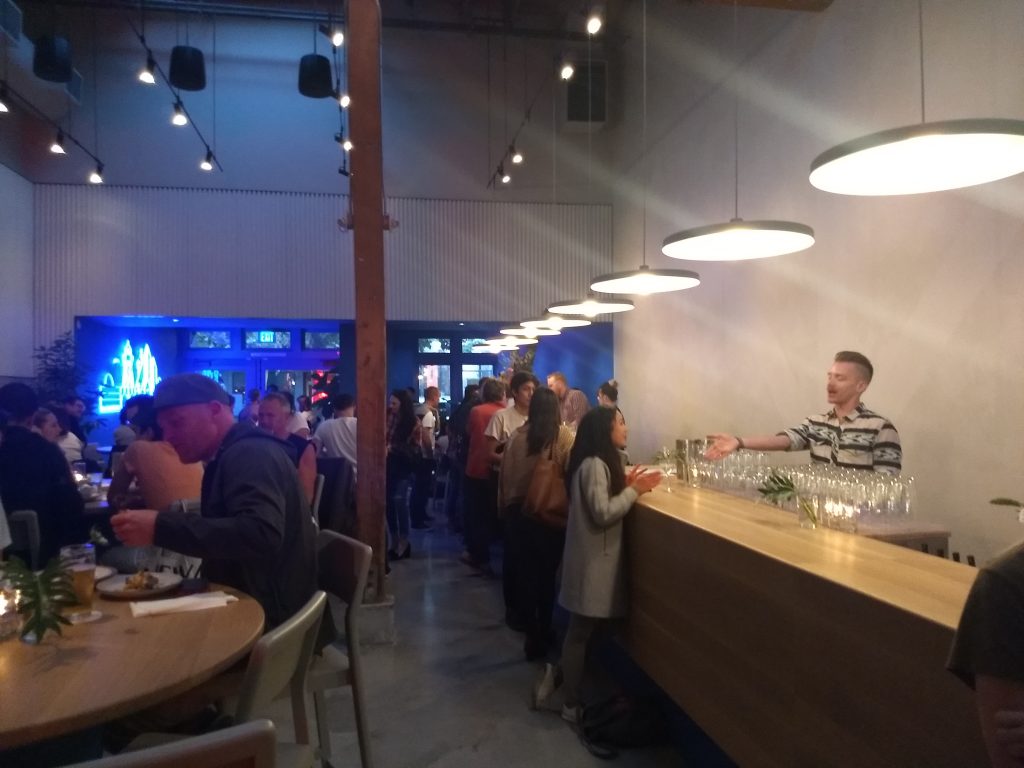 Near the entry is a sort of front room, painted blue, which houses a low, sit-down bar with its own line of beer taps. The main space is populated with round tables of varying sizes with bar-height chairs. There follows a cozier space at the back with tables for two and booths for groups, with red accents and dimmer, more intimate lighting. The anchor for it all is the 40-ft standing bar.
The bar has recesses which accommodate the taps and leaves the bar top uncluttered, freeing customers and servers to interact without having to duck around a forest of towers and tap handles.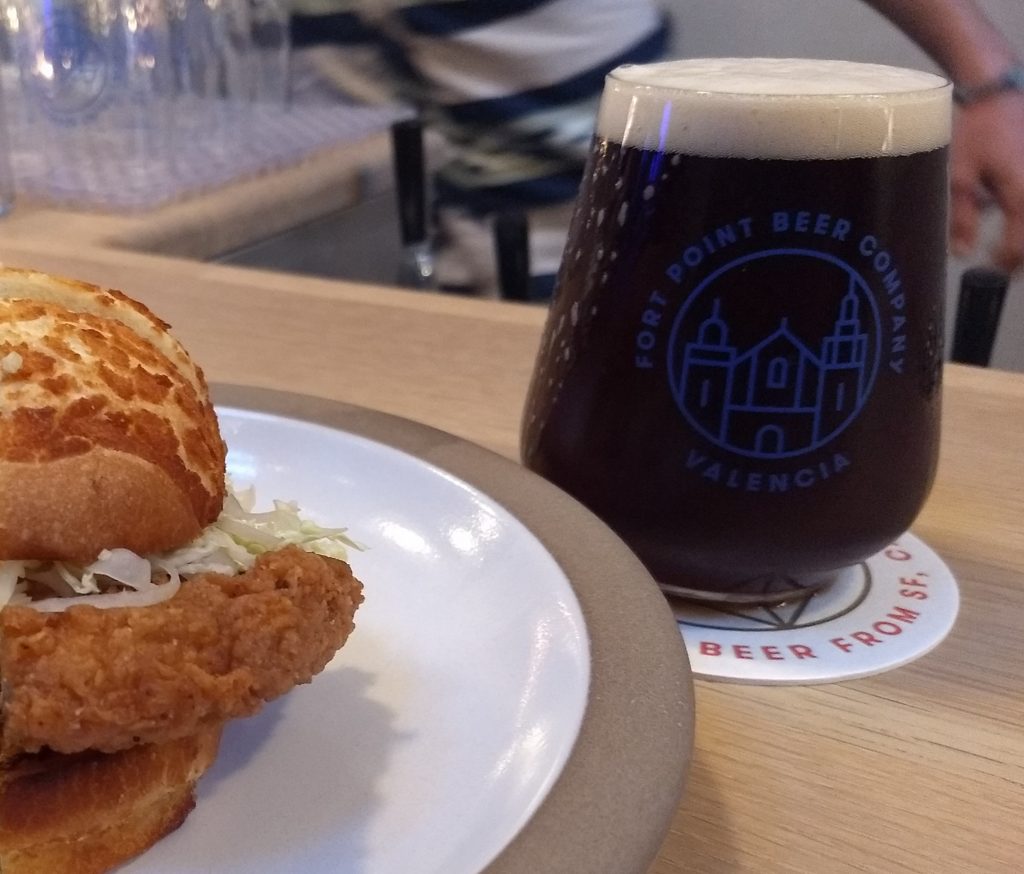 According to head of brewing, Mike Schnebeck, all of Fort Point's regular lineup of beers will be available full-time, along with seasonal offerings and a few guest beers from other craft breweries. Beers from the Black Sands brewpub, which Fort Point purchased last year, will also be available, as well as experimental brews and one-offs which will be served exclusively at Valencia. (A selection of wines and cider is also available.)
As for food, of course one cannot aim to be a proper beer hall without some food on offer. In this regard, the menu at Fort Point Valencia does not disappoint. It is certainly a cut above typical pub grub fare.
Chef Eric Ehler -who was pulled in from Black Sands- explained that he drew on his Korean heritage and on having grown up in Illinois (I'm pretty sure he said Illinois; maybe it was Indiana?) to create the range of flavors and dishes -from the cheeseburger to the dungeness crab rangoon, to the #00 on Rye open-faced egg salad and corned beef tongue sandwich. One of my favorites was the"pork chop bun" (think schnitzel sandwich) which, by the way, pairs really well with Westphalia red ale.
There are also plenty of genuinely tasty vegetarian options, from a crudités plate, to a luxed-up artichoke, to a lovely "hand salad" of endive, quinoa, pickled cauliflower, and black garlic.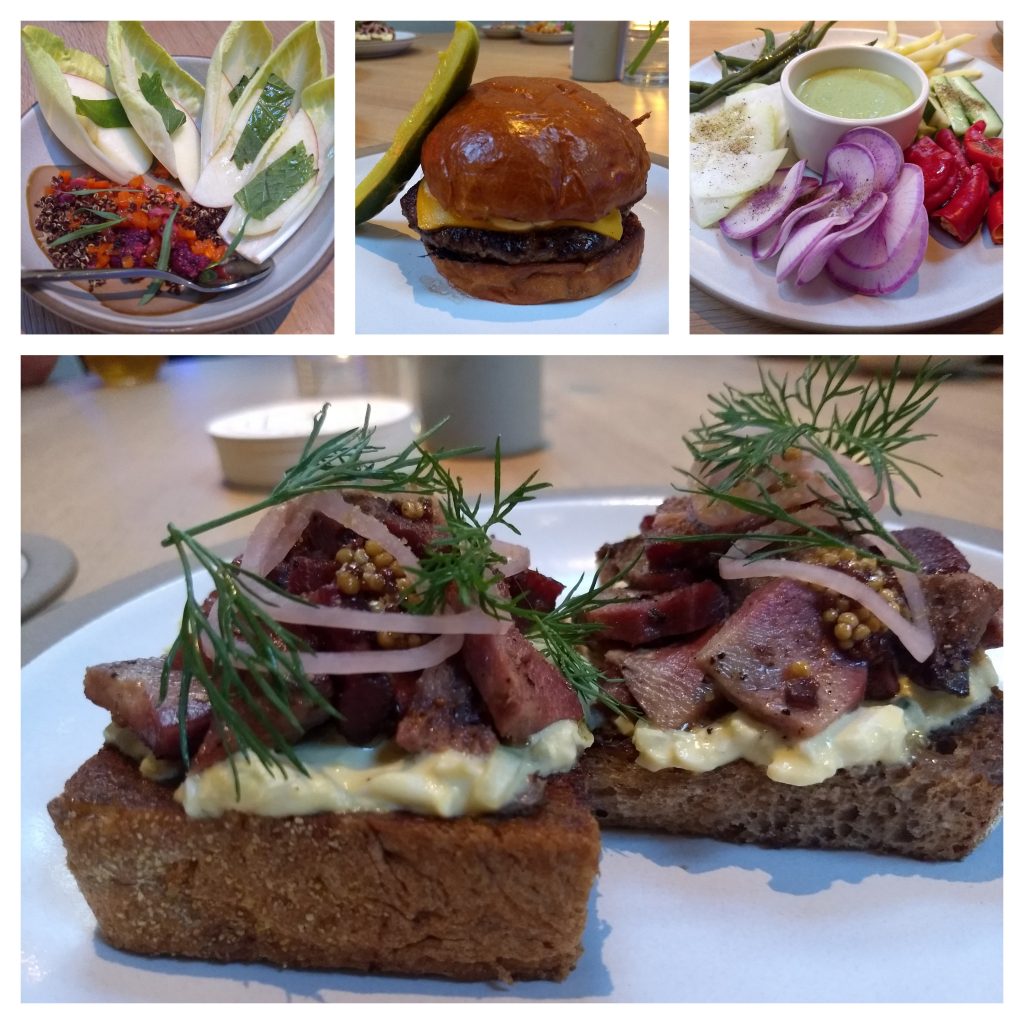 As of now, the menu doesn't have anything very sweet on it, but if you're in the mood for a dessert, I'd recommend ordering the "party bread", which is a really tasty sweet-and-savory fry bread (it was a crowd favorite at the event on Friday).
Fort Point Valencia
742 Valencia St
San Francisco, CA