In a move that caught almost everyone by surprise, the announcement was made early last week that Lima's Cervecería Barbarian had been 100% acquired by ZX Ventures.
Barbarian was one of Peru's most visible and successful early craft breweries. A winner of many awards, and headed by a charismatic and friendly trio of friends -Diego Rodríguez, Juan Diego Vásquez, and Ignacio Schwalb-, it was often featured in stories in print and visual media. Barbarian promoted itself as leading the "beer revolution", and it was in no small part through their efforts that space was opened up for Peruvian craft beer in supermarket shelves and coolers.
ZX Ventures, on the other hand, is an "innovation and investment" group for Anheuser-Busch InBev, the world's largest beer company. ZX Ventures specializes in bringing AB InBev's reach into areas hitherto unexplored by the company, such as homewbrewing supplies, beer e-commerce, beer vending machines, and in acquiring and then funding expansion of startups in new markets. It already owned 13 breweries around the world.
AB InBev, for its part, has already had a footing in Peru, since its 2016 acquistion of Ambev Perú and of the Backus & Johnston brewing empire. With the acquisition of Barbarian it garners a foothold in the "craft" market, and one via a company that comes with two successful bars and another on the way, and which has already proved a market for premium and superpremium beers (which Backus itself had already unsuccessfully tried its hand at via its short-lived Abraxas beer.) Under the terms of thedeal, Rodríguez, Vásquez, and Schwalb, along with Barbarian's 120 employees, will all remain in their current positions and roles.
Not surprisingly, news of the sale sent shock waves through the Peruvian craft beer community.
The immediate realization was that the waters around what is a craft brewer, and thus a craft beer, were about to get quite muddied. The fear being that Barbarian's strong public identification with the craft beer movement would persist, not only in the company's self image, but in the eyes of consumers, while AB InBev would use Barbarian's visibility and reputation, backed by Backus & Johnston's clout, to choke off market access for craft brewers.
The second was that the craft brew industry needed to get out ahead of this and define what makes a brewery a craft brewery, and thus a beer a craft beer.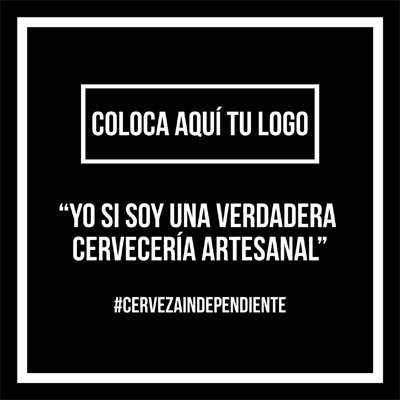 The Unión de Cerveceros Artesanales del Perú (UCAP), quickly settled on independence being a key feature, and suggested that breweries place a logo on their social media pages reading "Yo sí soy una verdadera cervecería artesanal" (I am a real craft brewery) and the hash-tag #cervezaindependiente. At the same time many supporters and craft beer drinkers -including myself- followed suit and rushed to add a similar logo to our social media feeds and pages (including this blog), reading "Yo sí tomo verdadera cerveza artesanal" (I drink real craft beer).
The campaign more or less landed with a thud. Many consumers, commenting in FaceBook groups, rejected it, viewing it as sour grapes from a bunch "haters" resentful of others' success.
The truth is that many members of the UCAP are personal friends and acquaintances of Barbarian's founders, and in fact, until the morning of the announcement of the sale, Barbarian's Juan Diego Vásquez was the president of the UCAP. However, because the logo campaign was not preceded nor accompanied by any public statement explaining it, and which could have been used to congratulate the Barbarians, thank them for their efforts on behalf of craft brew in Peru, and to wish them well in the future, the choice of language for the logo came to be seen as pointedly anti-Barbarian.
The UCAP's members are coming to realize that the sale of Barbarian presents them with the challenge and the opportunity to start the process of formally defining what is a craft brewery in the Peruvian context, something which, as I've noted before, has not yet been done very well.