An article in this month's Zymurgy magazine -the journal of the American Homebrewers Association- featuring an interview with Brian Peters, the owner and brewer at the Austin Beer Garden Brewing Co. reminded me that I hadn't posted anything relating to my recent visit to Austin.  (I been trying to post at least every two weeks, but clearly, I'm failing at that.)
Knowing my predilection for beer and brewing, my friends, Michelle and Dan, suggested we met at Austin Beer Garden Brewing, known locally as The ABGB.
Located just south of downtown, the ABGB occupies a large warehouse-type space. One side is given to the bar and taps, while one of the ends holds a stage for live music on the weekends. The brewing and fermenting gear peeks out from behind both.  The public space is filled with long communal tables, making for a friendly space. However, it is with the outside seating that the ABGB really earns it's moniker.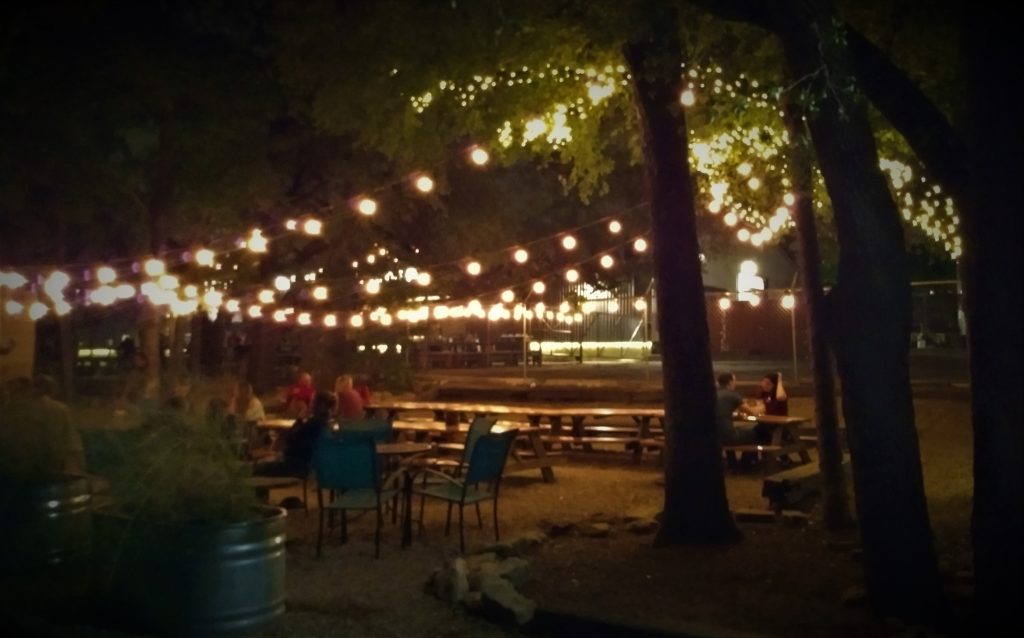 Thanks to Austin's warm weather, one can sit at the outside tables long into the evening, under the strings of Edison lights.   The ABGB serves some rather nice pizza, and of course the beer can be ordered by the pitcher to go with the pies.
How's the beer?  Actually, pretty good. It's no wonder that the ABGB is one of Austin's prime beer spots.
I am not sure what we had with the pizza, as it was not I doing the ordering, but as I waited for Michelle and Dan to arrive I did sample a glass of "YSB [You'll See, Baby] #5: Fiona".  Fiona is a mild apple sour first released in 2015.  It must have proved popular for it to be still be on tap in early 2018. As I made a note of at the time, Fiona is "Crisp, dry, apple. Tart. I like!"
So, if you should find yourself with time to kill in Austin, the ABGB is well-worth checking out.
ABGB
1305 W. Oltorf
Austin, TX