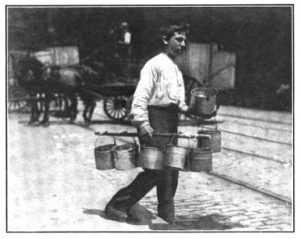 Lunch growler delivery (1909)
Absolutely!
In early summer the restaurant take-out delivery service DoorDash experimented in southern California with adding alcohol to the list of items it would deliver. It seems the results were, by all accounts, encouraging.
In fact, I know someone who tried it in San Diego –a land with many worthwhile breweries– and he was very pleased. He said that it was as easy as getting online and placing the orders, and a bit later "the guy comes to your door, and says 'hello sir, here's your pizza, here's your beer'. It's great!"
Now DoorDash beer delivery has come to the SF Bay area. Granted, the geographical area in which it available is still limited; it's basically the Peninsula, down to San Jose, and the East Bay cities (except for a few places, such as Hayward, San Leandro, and Richmond), and a few cities as far east as the vicinity of the Highway 24-Highway 680 interchange. However, it is here, and looking to expand.
And it gets better, as now we also have Hopsy!
Hopsy is a brand new Bay Area-based beer delivery service. For the price of the beer and a small delivery charge, Hopsy will deliver 32 oz. growlers right to your door during a window selected by you. So far, the Hopsy delivery area is basically Alameda County cities west of the Berkeley-Oakland hills, and San Francisco, but they are certainly looking to expand.
They're working with about two dozen local breweries, so there is plenty to choose from!