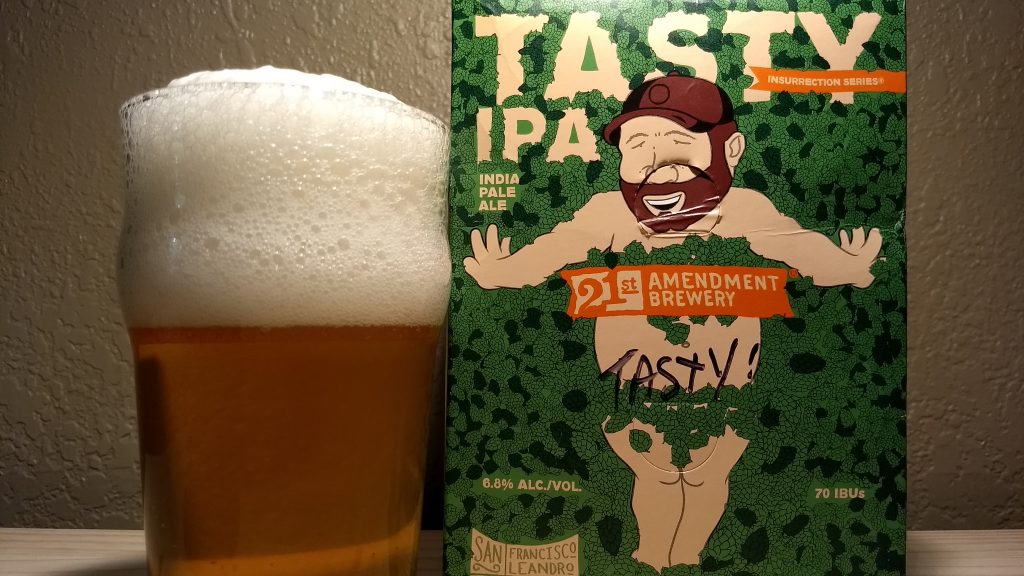 A little over a week ago 21st Amendment Brewery in San Leandro (CA) released the latest in its "Insurrection" series, an IPA brewed in collaboration with and named after homebrewer Mike McDole, aka "Tasty".
As explained in the brewery's press release:
At one point, Mike "Tasty" McDole was just a mild-mannered home brewer who stumbled into the universe of The Brewing Network, the premier multimedia website for brewers and beer lovers. A regular on the Network's "Session" show, Tasty gained notoriety with advice to listeners that was 50% informative, 35% conversation and the remainder too inappropriate for this paragraph.

Today, Tasty's legendary status among the craft beer community is trademarked by his award-winning home brew recipes and his signature caricature sticker, which you'll find affixed at nearly every good beer place around the country. And so with great pleasure, and McDole's personal sticker of approval, 21st Amendment Brewery presents a delicious collaboration, Tasty IPA, a beer that is rooted in friendship, created for the common love of home brewing and dedicated to the American beer beauty known as Tasty McDole.
Tasty is, of course, a regular at The Hop Grenade tap room and bottle shop in Concord, which is also home to the Brewing Network's studio.   As it happens, Mike is also a longtime member of my homebrew club, the Diablo Order of Zymiracle Enthusiasts (DOZE), and a friend of mine.  A bunch of us DOZErs met him at the Hop Grenade on Monday night for Tasty IPA's premiere on draught outside the brewery itself.
Tasty IPA is a 6.8% ABV, straw-colored IPA hopped with CTZ in the boil, and dry-hopped with Citra, Mosaic, and Ekuanot lupulin powder.  The aroma is crisp, with some citrus and pine, while there is some pine and fruits in the flavor.
The word "balanced" maybe gets overused, but in this case its use is warranted I think. Even though Tasty IPA clocks in at 70 IBUs, one would'd never guess it.  The hops don't smack one in the face.  There is a pronounced bitterness, to be sure, but it plays nicely off the maltiness of the brew. It goes down really easily, believe me.
Tasty IPA is a really nice beer, and a fitting tribute to its namesake.