A while ago –yeah, I know, I've been slacking on my blogging– I had the opportunity to visit Good Wolf Brewing in Truckee (California).
I was up there on a family weekend and, naturally, looked up local breweries at the north end of Lake Tahoe. I was already familiar with FiftyFifty, and it was a bit far from where we were staying, so I opted for offerings local to the Truckee area. The name Good Wolf was intriguing enough but my curiosity was further piqued when, at another watering hole, I heard some pool-playing patrons describe Good Wolf as "weird".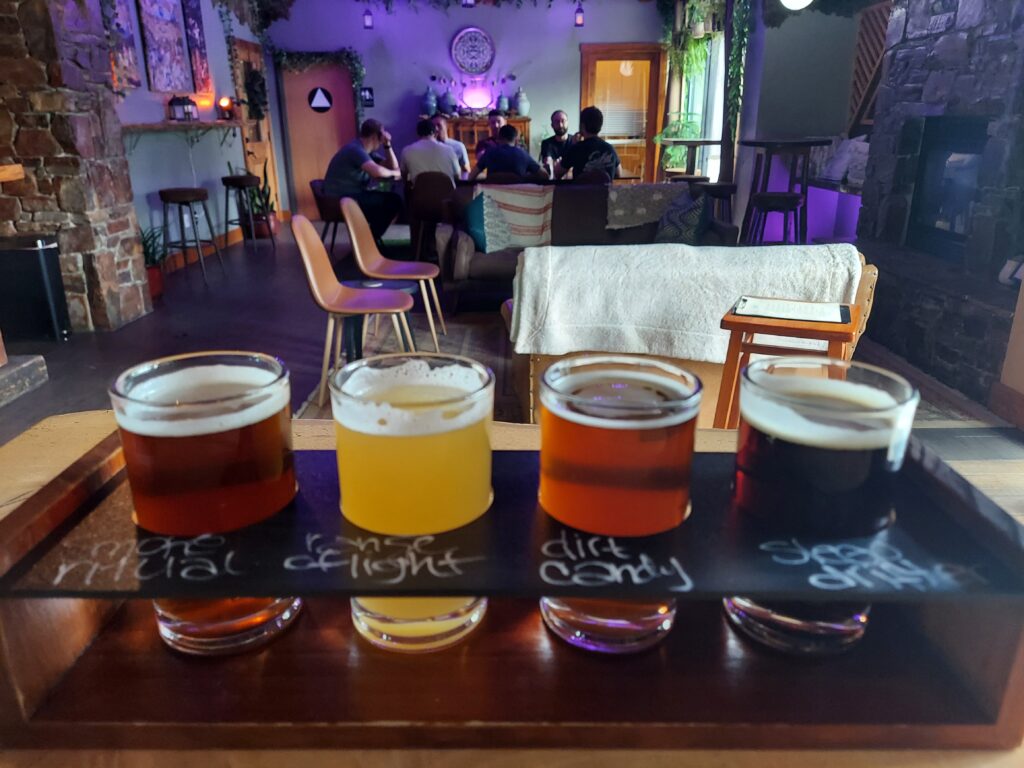 Well, it's not precisely "weird", but it is very earthy-crunchy, with lots of natural elements to its decor and an ecological, sustainable bent to its operation. Not weird to me, but I do come from the Bay Area, so …. well, it is the only brewery that I've been to that offers hatchets as part of their swag.
Honestly, I loved the place. The vibe was mellow and welcoming, and somewhat transportative. The staff were all welcoming and helpful.
The beers were top-notch as well.
One that particularly impressed me was Dirt Candy, a 5% abv ale brewed with house-grown blue oyster mushroom barley miso, locally-sourced lion's mane fungus, and foraged trametes mushrooms. It was not sweet or mapley as one might've expected based on experiece with using candy cap mushrooms. Instead it was more savory, with good umami character, but light and very easy-drinking.
Smoke Ritual was another very interesting one. It is smoked with juniper, which is intended to evoke camping in California's evergreen forests. Generally-speaking I am not a big fan of rauchbiers, but I can definitely enjoy smoked beer when the brewer has a light hand with the smoke and it itself has character. Smoke Ritual is one of those.
I definitely look forward to trying more of Good Wolf's beers when next I am in the north Tahoe area.
The Good Wolf Brewing
10990 Industrial way, Ste B103
​Truckee, CA 96161