La Cantina Brewing Company is one of Salinas' newest breweries (the other being Brew-N-Krew Alehouse, which just opened). La Cantina is located at the north end of the historic part of downtown, half a block from the National Steinbeck Center, in the former home of the Monterey Coast Brewing Co.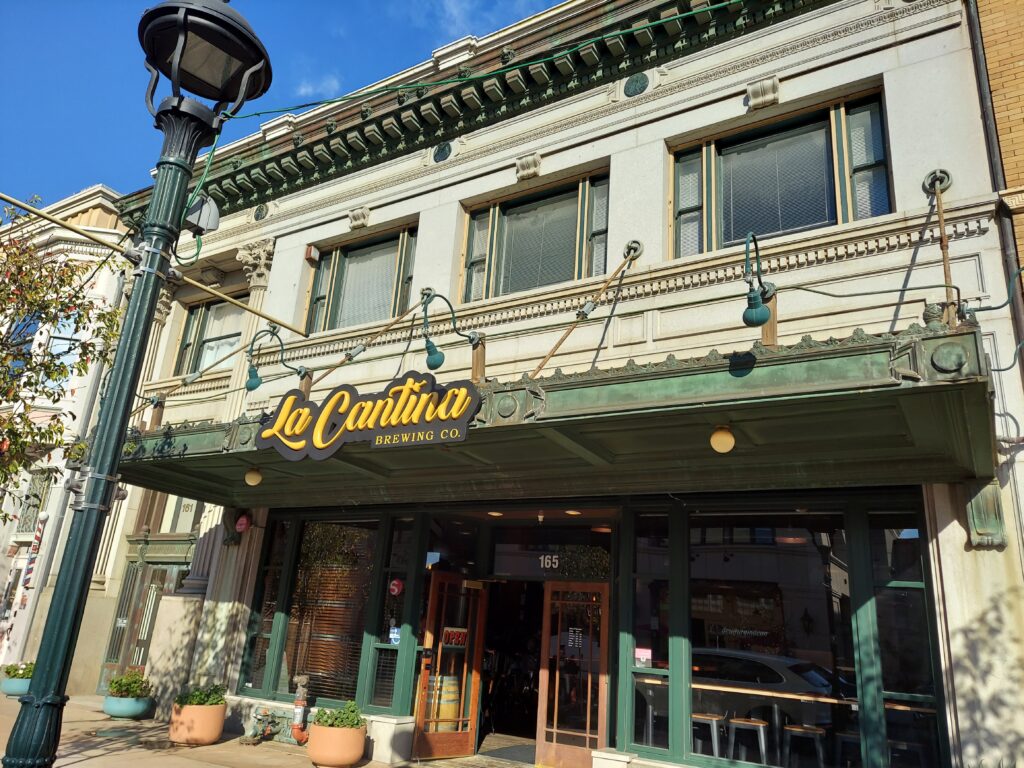 La Cantina is a Mexican-American themed establishment, but does not go over the top with it or get kitschy. The space, rather, is handsomely appointed with a modern feel to it. For one, they have removed the low wall that ran down the middle of the room, giving it a more open feel. Also gone are Monterey Coast's booths, all replaced with new high-top tables and bar stools.
They've only been open about three months, and when I visited their beer menu was as yet limited to 5 house brews and a few guest taps.
I ordered a flight of all five house beers. They were all fruit-infused ales, and all, I was told, using real fruit.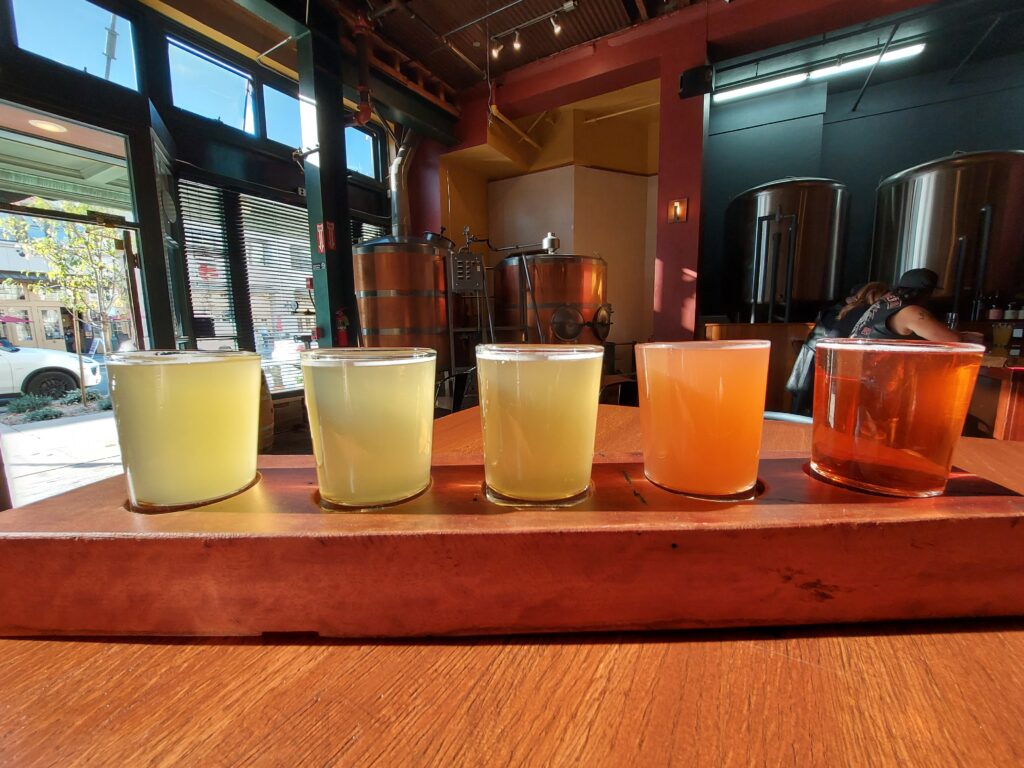 The Piñorita (4.6% abv, 17 IBU) is infused with pineapple. It was not very effervescent, but had a nice clean pineapple flavor, very reminiscent of a pineapple Mexican soft drink. It was quite tasty. My favorite of the flight.
Guava Fresca (4.6% abv, 17 IBU) is aguava-flavored beer was, again, not highly carbonated, but had a plenty of clear, clean fruit flavor, with some background sweetness.
The Tamarindo I, II, III (4.6% abv) had very light tamarind flavor, and not much sourness, which was a bit surprising, given that it contains tamarind. It had some suspended matter in it, and was the least flavorful of the bunch.
The Vampiro (5% abv, 17 IBU), was interesting. It is a blood orange-infused beer, blended with Piñorita, and an addition of Tajín. (Tajín is a Mexican seasoning made from ground chile peppers, sea salt, and dehydrated lime juice, which is usually added to fruit.)
It was well put together, and I enjoyed it, but I don't think I'd want a whole pint of it. The salt addition from the Tajín was very noticeable. My server told me that the canned version was even saltier, but they had to tone it down for the draught version as the salt crystalized and jammed the taps!
The last one of the flight was Besito (6% abv, 17 IBU), a Berliner Weiss with raspberries, cherries, and strawberries. Again it was very enjoyable, with a lot of layered berry flavor, but I felt it was not sour enough for a Berliner Weiss.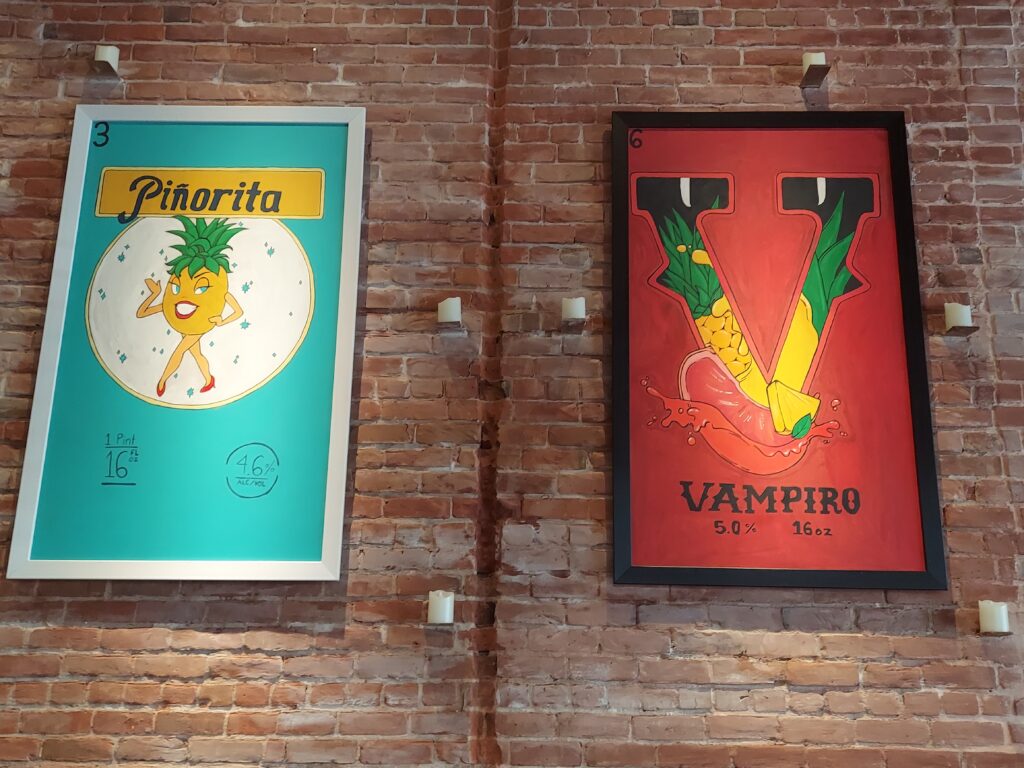 All the beers were tasty and bright tasting, and it is obvious that they were aiming a setting themselves apart and to build a local following by tapping into flavors reminiscent of Mexican soft drinks and aguas frescas. But, it seemed an odd and perhaps risky choice, to me, to launch a brewery with only those, and no more traditional offerings, as the starting lineup.
According to the menu, however, they had a number of other brews, including more traditional brews, including an amber ale, a pale ale, and a lager, coming online in the near future.



La Cantina Brewing Company
165 South Main St., Salinas, California