In my post on Nuevo Mundo's new draft bar I mentioned that the Dörcher Bier tap room on Miraflores' Calle Manuel Bonilla had closed.  Well, it turns out that Dörcher Bier, a brewery from Pozuzo –a valley in  the region of Junin, settled by German immigrants– has teamed up with Lima Beer Company, makers of Craftsman Cerveza Artesanal, to open up a joint tap room: La Cervecería.
In a converted early-20th century house, La Cervecería's layout had to squeeze into the spaces of the home it once was -parlor, living room, etc.– which creates cozy nooks and crannies for sitting in with friends.
The decor follows a pattern that has become almost standard in taprooms here in Lima: rough brick facing behind the bar, a large chalkboard above the bank of taps, and a mural on one or more nearby walls.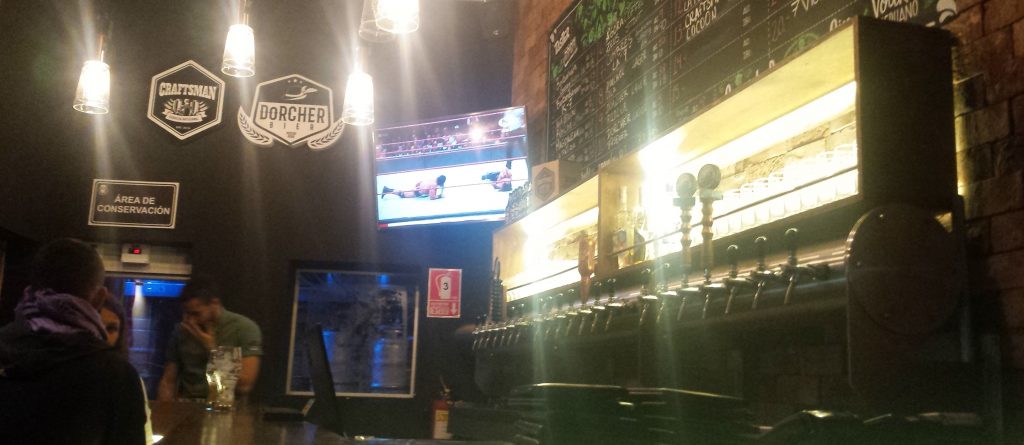 The staff are friendly and the beer selection quite good, with 21 taps of house and guest brews; all of which are Peruvian.
Particularly noteworthy for foreign visitors is Dörcher's Coca, a beer infused with coca leaves, which give the brew a slight green tinge and a light coca leaf aroma and flavor.
La Cervecería
Calle San Martín 431
Miraflores, Lima