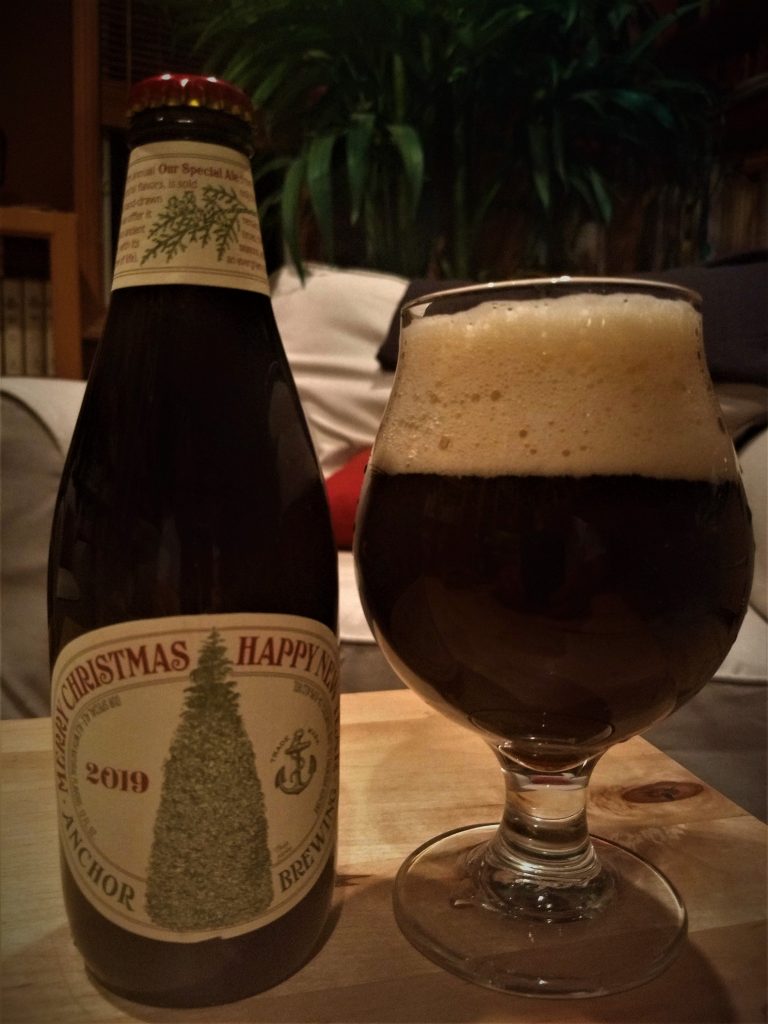 I've received a couple of bottles of the 2019 Anchor Christmas Ale courtesy of Anchor Brewing, and decided to pop one open for review tonight.
First off, let me say that it is a pretty beer. It has a big tan, rocky head. It appear dark brown and opaque, but when held up to the light a beautiful dark, deep garnet hue comes through.
Following on that impression, it is also a beer that can fool one a bit. Due to its dark hue and big tan head, one might allow oneself to expect a robust beer like a porter or stout. In other words something with a very malt-forward character. However, the 2019 Christmas Ale is actually surprisingly light-bodied, and the first impression upon tasting is one of smoothness, almost as if it had been dispensed on a nitro system.
It has a malty nose, with a light hop aroma, with some subtle conifer notes in the background. As it warms and the head subsides, some caramel or invert sugar aromas come forward.
In the taste, I got some spice, some coffee, and baking chocolate up front, backed up by some malt or caramel notes. It finishes dry, with the bitter chocolate flavor lingering, and some more of that pine at the back end.
It is a good, tasty beer, but to be honest, I'm not as partial to it as I have been to previous years' iterations of the Christmas Ale. The recipe changes every year, and taste is subjective, so that is to be expected from time to time. I guess I just miss the more robust mouthfeel of those other versions.
However, because it does have that lighter mouthfeel, it is more drinkable than a lot of other seasonal ales that come out at this time of year. This is one that one can have more than one of in a session.