Every year Russian River Brewing stages what is arguably one of the most anticipated events in the Beer Geek Calendar: the release of one of world's most famous beers, Pliny the Younger.
It probably hardly needs mention by now, but Pliny the Younger is a triple IPA -the world's first, in fact- which means that it has more of everything that goes into an IPA. It clocks in at a bit over 10% abv, and somewhere in the neighborhood of 90-100 IBU. It is released only once per year, for a two-week period. It is served on tap at Russian River Brewing, only for in-house consumption, and only until each day's allotment runs out. Only a very small amount goes out in kegs to select accounts.
This year Pliny the Younger will be released on February 1st and be served until the 14th.
In years past, people have been known to wait in line for up to twelve hours in order to get into the pub, and sometimes the day's allotment ran out before the line cleared. However, with the opening of the new brewery in Windsor, Russian River is hoping that things will be different from now on.
First of all, there is the obvious advantage of having the beer released simultaneously at two different locations: the original brewpub on 4th Street, in downtown Santa Rosa, and the Windsor brewpub.
Then, there is the increase in output. Not only is the Windsor brewhouse's capacity triple that of the 4th Street brewhouse, but Russian River's brew staff pulled out all the stops and ran four back-to-back brews of Pliny the Younger, in a marathon, 24-hour brew session! This year's batch of Pliny the Younger is 300 barrels.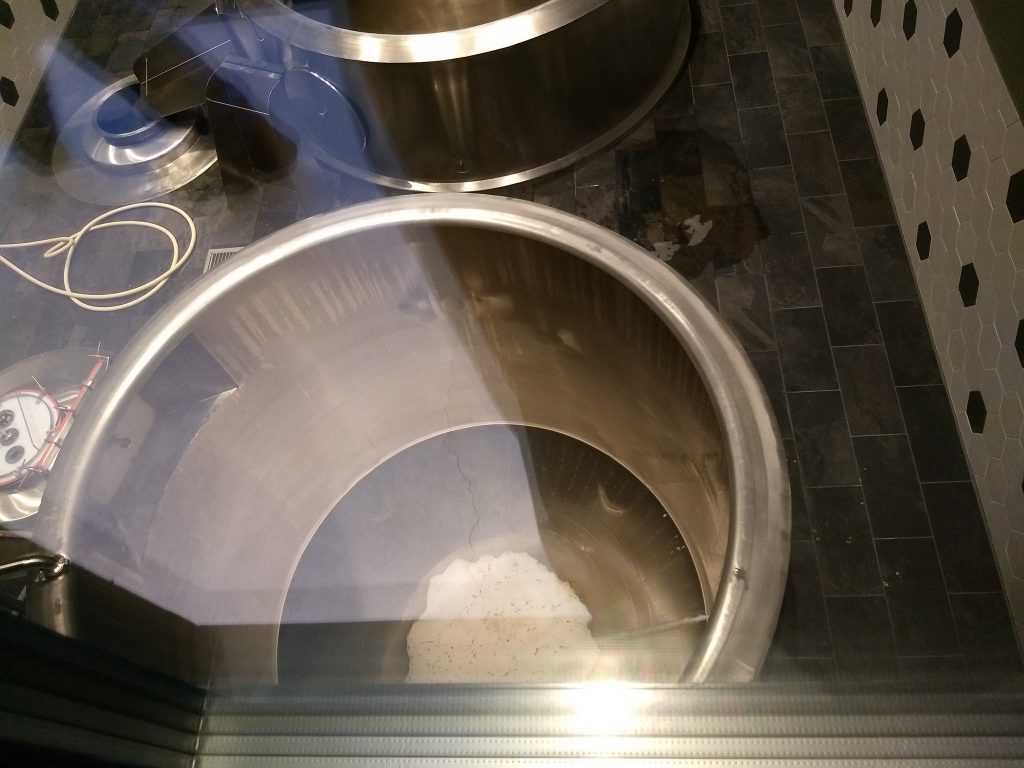 With that amount, Russian River will be able to provide, not only full allotments to both pubs, but also larger allotments than have been available in the past. The hope is that thus they will be able to lessen wait times for guests and not have anyone go away disappointed.
This year will also provide other contrasts with those of years past. For one thing, no one yet knows what the effect will be on the yeast and the beer of the much larger batch size. Nor, does anyone really know what, if any, difference being fermented in open-top fermenters instead of closed-top fermenters will make. Russian River employees that I spoke to last week were intrigued and excited to find out
While no one knows precisely what to expect this year in terms of lines and wait times, the staff's recommendation is to skip downtown, and head for the larger pub in Windsor. Not only should its greater capacity help move people through faster, but its 2 acres of free parking will save you from the worry of feeding the meter and having to move the car every two hours.
Another thing to note: This year, Russian River will be serving Pliny the Younger to guests on the guided tour at Windsor between Feb. 1st and Feb. 14th. Booking a tour will not get one into the pub any faster, but it is a way to get to get a taste of Pliny the Younger without standing in line. Weekend bookings are pretty full, but as of now there are still plenty of spaces on weekdays, specially in the second week. Go to Russian River's webpage to book.