From the 19th through the 21st of June, Lima was host to the 4th installment of the Copa Peruana de Cervezas (Peruvian Beer Cup).
The competition is organized by the Unión de Cerveceros Artesanales del Perú and is open to commercial brewer and homebrewers, but is restricted to beers brewed within Peru's borders.
This year the judging pool was made up of 21 BJCP-certified judges from Peru, Brazil, and Argentina, who together evaluated 200 entries.
I had been invited to observe but I was unable to attend due to conflicting travel plans. Thus, I have no idea of how the flights were organized, but here are the winners, organized according to the BJCP styles, as they were announced (thanks to UCAP and tomandoaltura.com for the info!)

COMMERCIAL BREWERS
2A. International Pale Lager
Bronze medal to Barranco Beer Company (Lima) for their Fifti Lager
3A. Czech Premium Pale Lager
Gold medal to Cerveceria Barbarian (Lima) for their Magic Quinua Pils
3C. Czech Amber Lager
Bronze medal to Barranco Beer Company (Lima) for Don Mau
6A. Märzen
Bronze medal to Curaka (Lima)
12A. British Golden Ale
Silver medal to Oveja Negra (Lima) for their Golden Spirit
14C. Scottish Export
Gold medal to Cumbres (Lima) for Roja Scottish Ale
15A. Irish Red Ale
Bronze medal to Besser Bier (Lima) for La Primera
16A. Sweet Stout
Bronze medal to Tempo (Lima) for their Magic Stout
17A. British Strong Ale
Silver medal to Cerveceria Antes de Cristo (Lima) for ¿Cómo Quedas?
20C. Imperial Stout
Gold medal to Cerveceria Barbarian (Lima) for Apagón Imperial Stout
21A. American IPA
Silver medal for 2 Brothers for Capitán 2
22B. American Strong Ale
Bronze medal to Melkim (Arequipa) for their Contigo Perú
Silver Medal to  Sierra Andina (Áncash) for Pachacútec Imperial Ale
24A. Witbier
Bronze medal to Beer Stache (Lima) for Blanche
25B. Saison
Bronze medal to Cervecería del Valle (Cusco) for their Saison de Pachar
26C. Belgian Tripel
Silver medal to Lemaire (Lima) for Premium Triple
28C. Mixed Fermentation Sour Beer
Bronze medal to Psycho Brewery (Lima) for EsquizSourFrenia American Wild Ale
29A. Fruit Beer
Gold medal to Melkim (Arequipa) for Caperucita
Gold medal to Lemaire and Cumbres (Lima) for their collab beer, Inka Champ
31B. Alternative Sugar Beer
Gold medal  to 7 Vidas (Tacna) for their Oxapampa Honey Ale

HOMEBREWERS
1D. American Wheat Beer
Bronze medal to Frank Ponce Vela
20B. American Stout
Bronze medal Ángel Herrera Armas
21B. American IPA
Bronze medal to Juan Carlos Ydrogo

BEST OF SHOW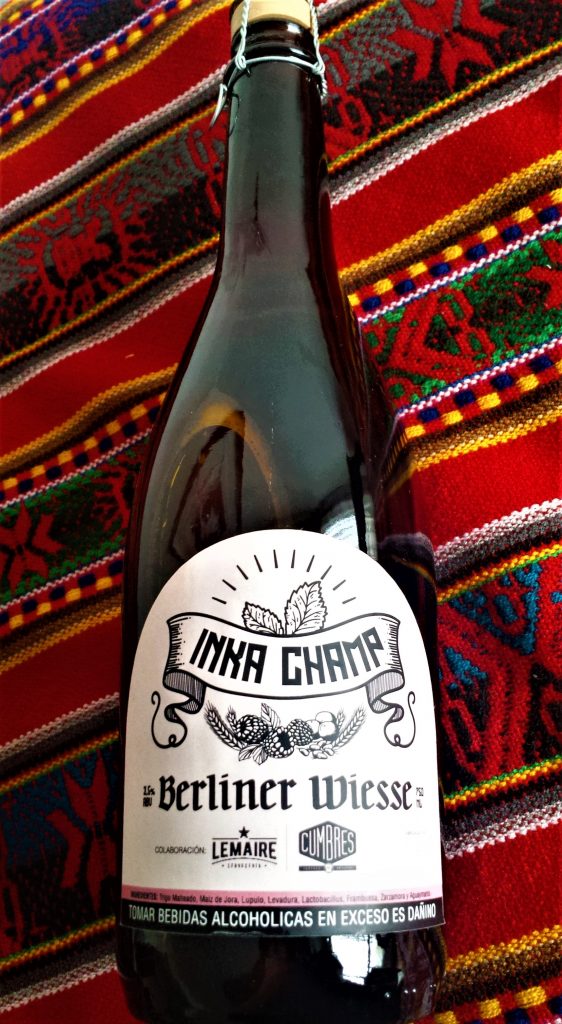 Inka Champ, a collaboration brew between Lemaire and Cumbres, was voted Best of Show Beer. Inka Champ is a fruited beer made with agaymanto (kapulí), raspberries and blueberries. It is also Peru's first commercially-released Berliner weisse.
Cerveceria Barbarian was named BOS Brewery, having earned two gold medals.