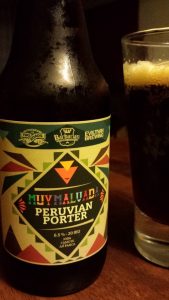 Muy Malvada Peruvian Porter -whose name literally translates to "very evil one", but could be read as "very naughty one"- is a collaboration beer brewed by Lima's Cerveceria Barbarian, in conjuntion with Two Roads Brewing, out of Stratford, CT, and Evil Twin Brewing, with HQ in Brookly, NY.
Muy Malvada is brewed with jora, sweet potato, and aji panca. Jora is the germinated corn that is also used to make the Andes' traditional corn beer, chicha. Aji panca is a variety of chile pepper, specifically a variety of Capsicum baccatum, which is a staple of Peruvian cuisine. It has little to no heat, and mostly adds a bit of red tint and deep pepper flavour to dishes.
In Muy Malvada the pepper flavour is evident in the background, as a very, very tiny spiciness at the back end. Much more mild, in fact, that I've tasted in the US in beers brewed with ancho or chipotle chiles.
As porters go, Muy Malvada is actually quite nice, and coming in at 6.5% abv and 20 IBU, it is falls quite nicely within the definition of porter. Although it is more like an American porter than its British counterpart, the panca and perhaps the sweetness imparted by the sweet potato, do set it a bit apart.
I really liked this beer, and when I met one of the owners of Barbarian, Diego Rodriguez, I made it a point to ask about it and its genesis.
Diego explained that it came about as a joint project with the other two breweries, and the specialty ingredients were selected as a way of making the beer a Peruvian porter. I would say that they succeeded in giving it a local character. (In fact, when I read Stan Hieronymous' recently-published book, Brewing Local, this beer is one that kept coming to mind as a successful example of a beer with an evocation of place.)
Now, I grant you that this review comes a bit late, given that I was in Lima in July, but as Diego Rodriguez explained, the plan was that Evil Twin and Two Roads, and perhaps a rep from Barbarian, would rebrew the beer in the USA this Fall.
In the USA it is set to be marketed as Pachamama Porter (they had intended for that to be the name in Peru as well, but "Pachamama" was already registered to another brewery).
I have not seen any references to it on either Evil Twin's or Two Roads' websites or FB feeds, but if you live on the east coast or have access to their beers through a distributor, bar, or bottle shop, keep your eye out for this one. I think you won't be disappointed.