In mid-July, several weeks into my recent trip to Lima, my cousins and I went out for beers at Cervecería +51, a brewpub to which I had been to once before, but was new to them.
+51 –a name taken from Peru's telephone country prefix– is located on Jiron Huamachuco, in the district of Jesus Maria, a few blocks from the district's central plaza and market. It's in a space once occupied by Jaya Brew craft brewery. It has been open for about five or six years.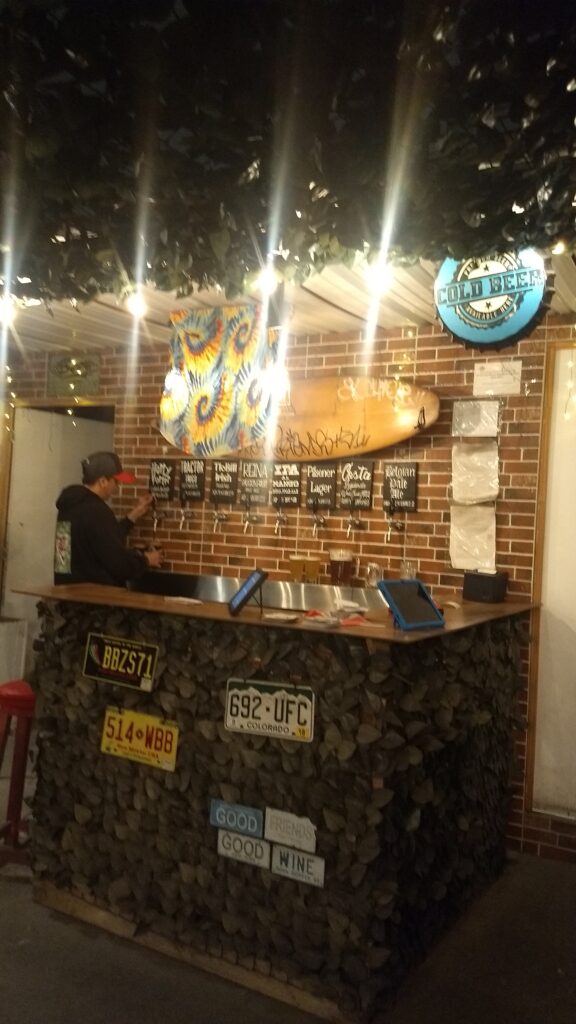 All of +51's beers are brewed and fermented on premises in a brewhouse visible through a windows in the downstairs bar. Since my last visit –before the pandemic– +51 has opened up a terraza on its rooftop, with sunshades, plenty of seating, and a bar. Replacement kegs and customer food orders are sent up via a small freight elevator in one corner.
The taproom had some 15 beers listed on its menu board, ranging from a pilsner, to a wheat beers, a couple of red ales, a couple of Belgian-style ales, a couple of IPAs, and several fruited beers.
I opted for the Belgian quadrupel to start with. Unfortunately, it was riven with chlorophenols and a slight tartness, which does not belong in that style. I politely returned it and they took it back without a fuss.
The next beer I tried was Costa Izquierda, a 60 IBU West Coast IPA. It made me happy. It hit all the right notes and was nicely hoppy but without being puckeringly so.
Another beer that I tried and very much enjoyed was Harry Porter, English porter. It clocked in at 6% abv and 30 IBU and was very dark, almost black, like strong coffee. It had pleasant cocoa notes, and a light roastiness. It was very drinkable.
As for the food, it was standard Peruvian pub grub: fried native potatoes, salchipapas (fries with hot dog bites), fried chicken bites, burgers. Hard to go wrong there.
Cervercería +51, despite some problems that obviously still creep in, has definitely improved from what I remember, and are experimenting with many more styles than before. The rootop patio is really pleasant, and when we tried another craftbrew taproom more than one of us found ourselves saying out loud that we should've gone back to +51 instead.
Cervecería +51
Jirón Huamachuco 1473
Jesús María – Lima – Peru
@mas51cerveceria