Last Tuesday, the Danville Brewing Company opened the doors to its taproom and brewpub in downtown Danville, and lines have been around the block to get in since day one.
The location the pub -Danville's first brewery- prime and the space is large, but friendly. The owners have done a very nice job in designing the place. There is a variety of seating options, including at the cool horseshoe-shaped bar with the wrap-around beer tap column.
I had a chance to view some project images for it when the pub was still in its design stages, and if it looked cool then, it is even cooler in person.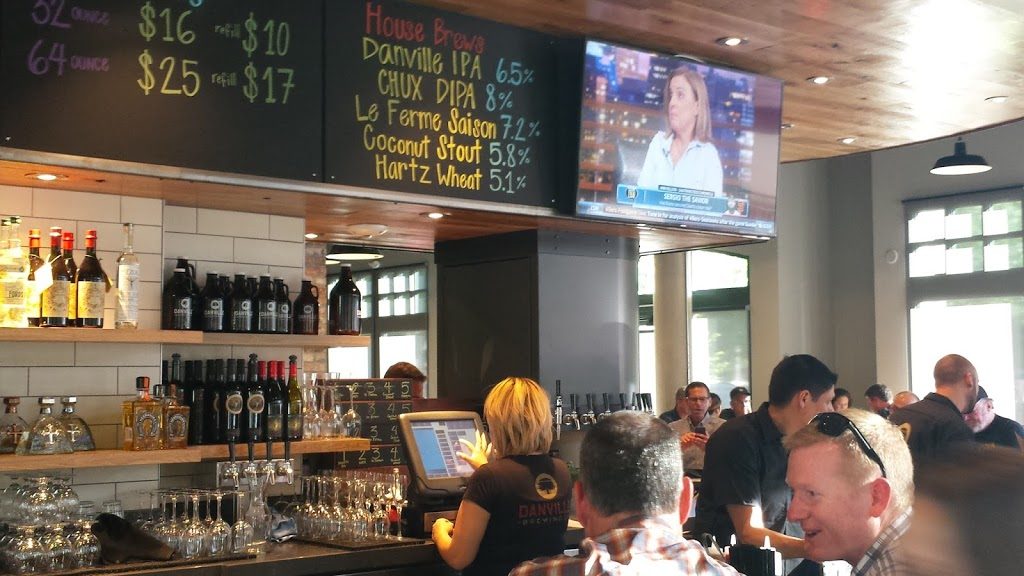 The food is good and nicely presented.  The wait staff knows their stuff, and one thing that we particularly appreciated was that our server had a list handy of all the menu items that were gluten-free.
Despite the crowds, the food was delivered promptly.  The restaurant is designed with an open kitchen as well as an open brewery.  What that means, in fact, is that the brewery is behind a glass wall, and is fully viewable by the public.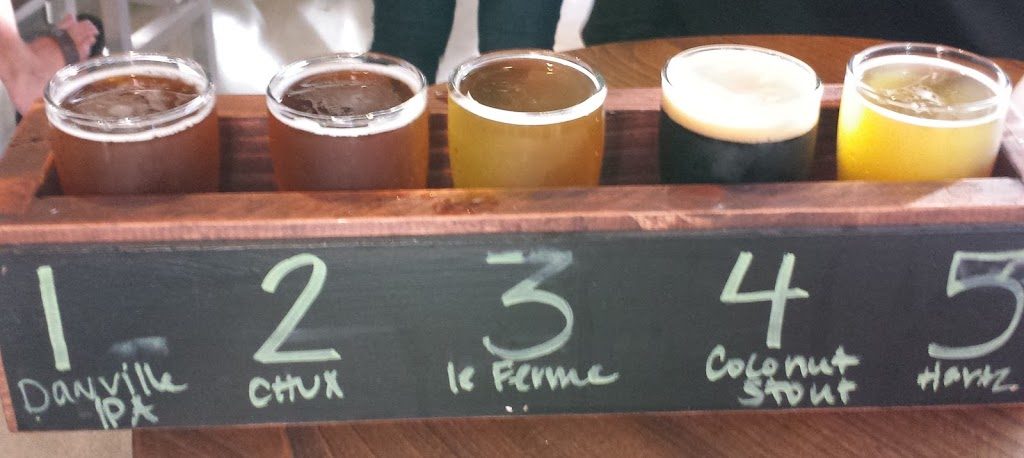 The brewery runs on a 10 barrel system, where head brewer Matt Sager has already begun to produce the pubs' first run of on-site produced beers (what is being served now was contract brewed for opening day in accordance to Sager's recipes and specifications).
Of the five beers on tap right now, most noteworthy are the CHUX Double IPA and the Coconut Stout.   The stout is smooth, and very subtly flavored with coconut, which makes it a very nice either-way stout -it has something for regular stout drinkers and for those who like flavoured beers.
The CHUX, despite being a DIPA, does not hit one in the face with hop bitterness, although it is definitely there, as befits an IPA.  Matt has done a nice job at crafting a recipe that packs a lot of hop aroma, flavor. and character in a tidy, smooth package. The servers are selling it as a beer that "will change your view of double IPAs."  It's marketting, but for the average beer drinker it may well be true.
For me the bottom line came when I was tasting the flight, and I exclaimed that the beers were "nice", and immediately thought to myself "duh, of course they're good. They're Matt's beers!"
Danville Brewing Company
200 Railroad Ave Suite A
Danville, CA 94526