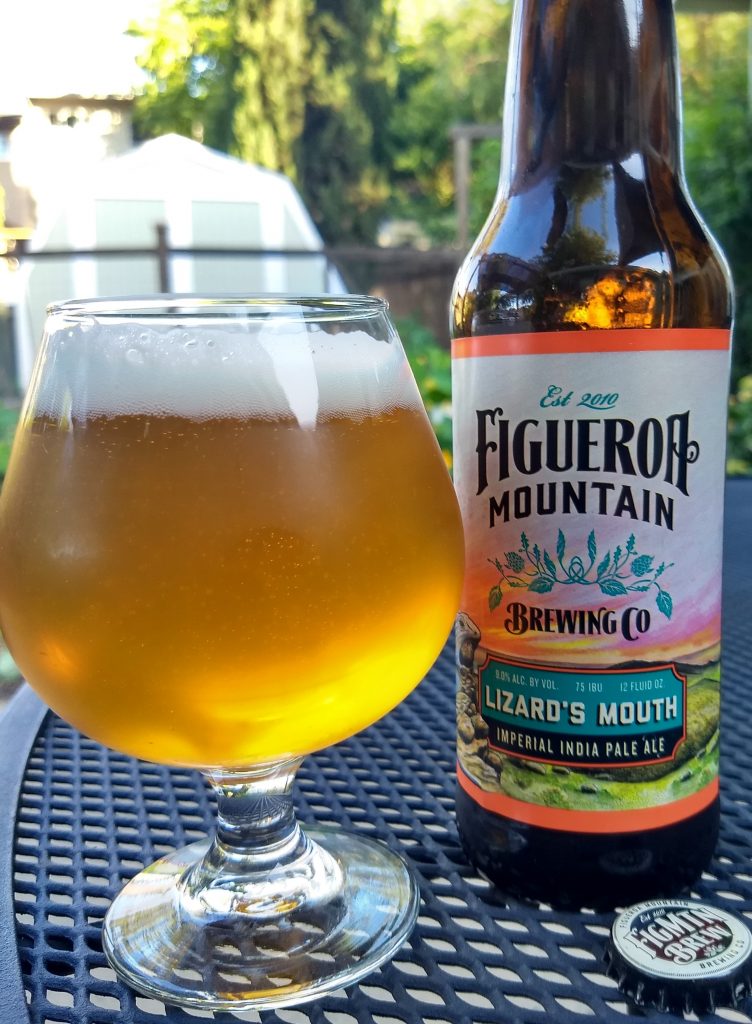 Figueroa Mountain Brewing is a family-owned craft brewery located in Buellton, CA, with six taprooms along the south-central coast: in Buellton, Arroyo Grande, Los Olivos, Santa Barbara, and Westlake Village.
I was happy to be given the chance to sample some beers by Figueroa Mountain Brewing, who, last week, sent me a couple of bottles for review.
The first of those -which I opened yesterday- is Lizard's Mouth Imperial India Pale Ale.
My first impression upon pouring Lizard's Mouth was that this is a pretty beer. Starting with the clear, golden color, an on to that snow-white head.
My bottle was appropriately carbonated, producing steady streams of tiny bubbles rising up through the beer, what people sometimes refer to as "strings of pearls". Lizard's Mouth also has good head retention, and plenty long-lasting lacing in the glass as the volume of liquid goes down.
Lizard's Mouth is full-bodied, with a creamy mouthfeel. It has a little bit of warmth -one can tell it is a higher alcohol brew- but doesn't taste at all "hot" or alcoholic.
As for the hops, they are definitely up near the front in the aroma and taste, but they don't smack one in the face. Lizard's Mouth has plenty of malt body and sweetness to balance out the 75 IBUs of hops (Simcoe, Citra, and Centennial, if you must know).
Unlike many American double IPA's, which are very much hop-forward, Lizard's Mouth may be better described as malt-forward –of course, maybe that's why it's described as an "imperial" and not a "double" IPA.  It tastes malty, with some notes of biscuit, a little toast. There's notes of citrus in there as well, and tropical fruit — I get guava, passion fruit, maybe some pineapple.
As counter-intuitive as it may seem with a 9% abv brew, as I was finishing my glass of Lizard's Mouth, it occurred to me that "this a session imperial IPA"! I could have easily drunk another bottle of it, which doesn't happen a lot with big IPA's.  I mean, yes, there was a hop flavor and bitterness aftertaste, but my tastebuds didn't feel overwhelmed. In fact, I was able to enjoy a meal immediately thereafter and actually be able to taste something other than hops.
So, Pliny, this isn't.  Double IPAs of that school are meant to showcase hops. Figueroa Mountain's Lizard's Mouth Imperial IPA, on the other hand, was clearly designed to attain a balance.  The result is a beer that is surprisingly easy to drink despite the high hop rate and abv.
Honestly, I liked it a lot.