During my last week in Lima, at the beginning of August, I took myself to Barranco to get acquainted with the Red Cervecera Perú.
Red Cervecera is arguably one of Peru's premiere homebrew supply retailers.  Located in a remodeled old early-Republican house on Avenida Francisco Bolognesi,  the Red Cervecera combines a homebrewing supply retail shop, a brewing school, and a brewpub under one roof.
There, owner Joe Forte and manager Francisco Tapiago, among others, provide invaluable suppor to the country's homebrewing and craftbrewing community by lead courses in brewing, provide opportunities for other homebrewers and microbrewers to gain experience with new ingredients, and offer a venue for beer-oriented events.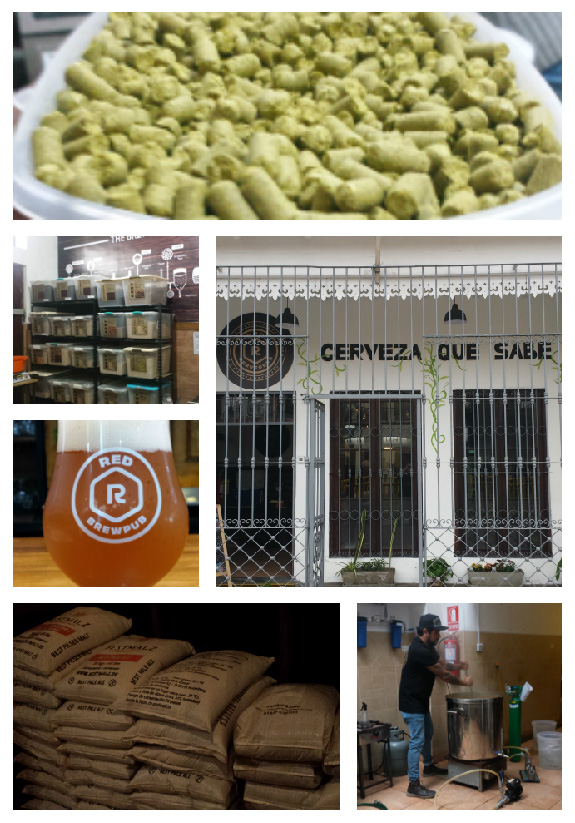 I happened to stroll in off the street on a Wednesday afternoon and, though a stranger, was warmly welcomed as a homebrewer and invited in to observe a brew that Francisco was brewing in order to represent the Red Cervecera at the then-upcoming Craft Beer Sessions festival.  While there I also had the opportunity to meet and chat with Joe, and with Megan Garrity, of Greenga Brewing Co., who were collaborating on a Chocolate-Peanut Butter Porter for the same event.
Franscisco was kind enough to take time out to give me a tour of the place and to show me the shop, which sells some thirty varieties of malt and carries a couple of dozen hop varieties as they become available.  One of those was a surprising experimental hop from Hop Breeding Company, HBC 472, which provided all the coconut notes to a Coconut Golden Ale on tap at the bar.
I returned the next evening for World IPA Day, and was again embraced and made to feel at home, and introduced to other craft brewers from across Peru.
At the Red Cervera, Joe, Francisco, and the rest of the team, more or less created one of those brewer's dream spaces in which all elements of the hobby –from brewing, to owning a homebrew shop, to having your own brand, to serving your beers (and your friends' beers) at your own bar– are brought together under one roof and shared with wider brewing community.  Their openness exemplifies an attitude of sharing and cross-pollination with, and among that community, that is a hallmark of the homebrew and craft brew community in the United States but is, I'm told, still a bit harder to come across in Peru.
Red Cervecera Perú
Av. Francisco Bolognesi 721
Barranco, Lima, Peru