On January 12th Vinnie and Natalie Cilurzo, founders and owners of Russian River Brewing Co., posted on social media announcing that the 2022 release of Pliny the Younger, which usually takes place at the beginning of February, is to be postponed.
The official announcement on the brewery's website notes that Sonoma County is experiencing a record-breaking spike in COVID cases and hospitalizations. Accordingly, on January 12th, county health authorities issued a public health order banning large gatherings and asking residents to stay home and avoid unnecessary exposure risks for the next 30 days.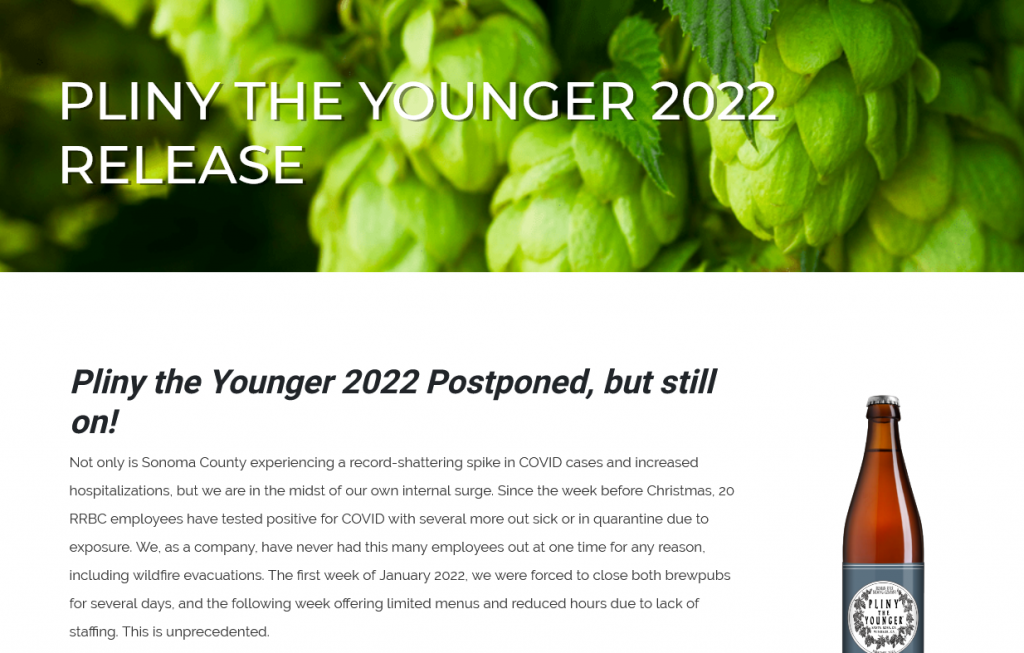 Moreover, since the week before Christmas twenty Russian River Brewing employees have contracted COVID, and others were quarantined following probable exposure to the virus. Last week both of the company's breweries had to close for several days due to staff shortages.
Given those considerations, and "for the safety of not only our employees but of our community at large," Vinnie and Natalie felt that postponing the Pliny Release, with its inevitable lines and crowds, "was the only responsible and logical choice".
The new release date is set to take place from March 25th thru April 7th, 2022 at both of the company's breweries in Santa Rosa and Windsor. Bottles of Pliny the Younger will be available for sale then, and only at the breweries.
However, the Pliny the Younger that has already been brewed in anticipation of the original release date, will be kegged in February and distributed to accounts in California, Oregon, Colorado and Philadelphia, beginning in the week of February 7th.